Hey Everyone,  Thanks for being patient with me. This will be a short update because my life (at this moment) is rather hectic. I've been moving, there have been big life changes, and so much more. I'll hopefully be able to talk about it all soon.  But the important thing is that TWATW has begun shipping. I've sent out hundreds of copies already. The rest will be going out through the beginning of next year as I have to move AGAIN very soon, and things are being packed up again. Everyone will have their copy of TWATW by the end...
---
Hey everyone,  This month has been a rough one personally for me. I ran and am still running an emergency summer sale over on itch, as well as using a discount code on the shop. I don't want to get into the specifics of why it was rough, but I'm moving again at the end of the month, which is difficult but exciting. Scary but a new opportunity. As for The Wizards and the Wastes. I was contacted by my rep at Sheridan Books sometime in June, where they let me know there was some issue with the colors on...
---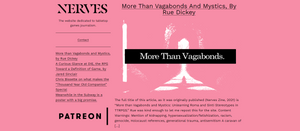 Yo,  Sun King's Palace: The Sun King's Palace has arrived. It's here, in my apartment. I'm just waiting on the poster-maps now so I can ship them. So you'll get those this month for sure.  The Wizards & the Wastes: I made the final payment on The Wizards & the Wastes and the printing should have wrapped up on the 3rd. I'm waiting for the next steps, which will be to set up shipping. I'm so nervous about this, not gonna lie. I really want to see the book in person and hold it in my hands. I have dreams...
---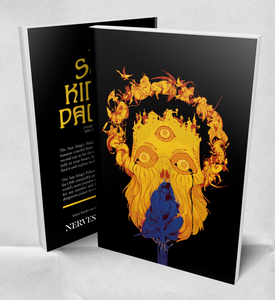 I just got word after the weird delay with Sheridan Books that for the most part we're still on-schedule. The Wizards & the Wastes is scheduled to finish production on 6/3, so early June. Shipping won't take that long considering they're relatively close to where I live. And from there the packing and shipping on my end is one of my favorite parts so I try to blast through it in a day or two. At the latest then, barring anything else, you should get your books late June. I'm excited to see them in person and get them to...
---
This is going to be a short update.  Sheridan Books, the printer who is doing The Wizards and the Wastes, had a cyber security breach which has downed their system and kept them very behind for the last month.  Wow. Wild shit. I've been talking with my contact there whenever possible, trying to get an ETA, but it seems I'm cursed with delays. It's understandable. It doesn't mean anything negative for anyone. The book isn't changing. Just one of the many unforeseeable things that can (and will) happen.  We have a crowdfunder coming up this week. It's been planned for...